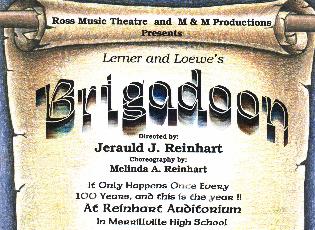 July 24, 25, 31, August 1 at 8:00 pm
July 26 at 7:00pm
August 2 at 3:00pm





Show Synopsis
Brigadoon gives a whole other meaning to the term "chance encounter." Not only do Tommy and Fiona meet by extraordinary chance (what are the odds of meeting someone who only appears on earth once every one hundred years?), but the same could be said of Alan Jay Lerner and Frederick Loewe. If it had not been for a chance meeting at New York's famed Lambs Club, the world of musical theatre may have been denied their notable partnership, and such legendary works as My Fair Lady, Camelot, Gigi, and, of course, Brigadoon. Set against the backdrop of Scotch tartans, plaids, brogues, and bagpipes, Brigadoon boasts some of Lerner and Loewe's finest songs.

Brigadoon was one of the biggest hits in Broadway's history. Why? Not because of stars - the best-known performers in the original 1947 cast were the dancers playing Harry and Maggie. Not because of big names on the creative staff - this is the show that made Lerner and Loewe famous as a musical team, and started Robert Lewis' career as an influential director. Only choreographer Agnes de Mille, who had set the ballets for Oklahoma! two years earlier, was already recognized as a first-rate creator of musical theatre.

So what made Brigadoon a hit? Its attention to values - the quality of its story, its music, its setting, its dance, and the way they weave together to create a fantasy that makes people think about real life. In 1696 Brigadoon, as in 1996 America, values involved religion, family, and politics - things Highlanders called the kirk, the clan, and Scottish independence from England.

Brigadoon Press Release

For Mor Information, E-mail
mmproductions@geocities.com
Authored By Geoffrey S. Gooch
GSG Web Productions
© 1998 M&M Productions